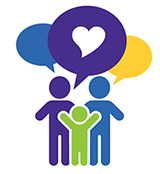 Conversations Count
Building a Foundation for Reading
To strengthen our parent engagement focus, Ferst Readers has developed a three-session workshop for families with children birth to three years old. Click here to register online to obtain all the program materials for FREE!
There are three sessions - each focuses on a critical component to language development:
Session 1 - Respond to Me Session 2 - Talk with Me Session 3 - Read with Me
There are two parts to this literacy program: the Program Guide and the PowerPoint Presentation. Both components are available to download once you complete the online registration. Click here for this step-by-step guide to teaching parents how to help prepare their children for school.
This Family Literacy Initiative was created in partnership with Ferst Readers, Morgan County Schools Early Learning and the Rollins Center for Language and Literacy.